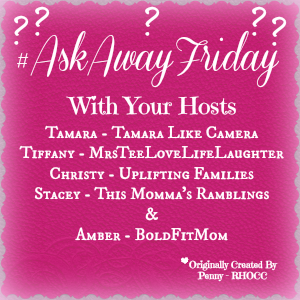 OK, so I promise myself and the world that now that I'm freelancing full-time, I will dedicate as much time to my blog as I do to the rough and tumble world of pitching and networking and finding people who wanna pay me to write and edit stuff. So with that, here's my attempt to dedicate myself (again) to routine posts.
#AskAwayFriday! I met Mrs. Tee of  LoveLifeLaughter through a #SITSSharefest on Twitter and I thought participating in this exchange with an established blogger could help me familiarize myself with how things go in this here blogging world. I'm trying to get my feet wet and put myself out there in a way I've been afraid to do so far. But bloggers like Mrs. Tee give me hope and encouragement! She's an AWESOME blogger who's found great success in a short period of time. Reading through her blog, I learned about her family, her interests and that we have a lot in common! Her dedication to blogging despite a HUGE (and lovely) family shows me that it's possible to do something you love and be really good at it if you stay disciplined and dedicated!
She asked me some off-the-cuff questions that had me LOL'ing, which I tend to do a lot. Check them out, along with my responses below:
 1. What is your favorite hot day lunch? Sandwich, Salad or Smoothie?
Um, when I say I'm a HUGE eater…none of these would cut it for me LOL! But if I had to choose, I'd go with a sandwich.
2. Are you sarcastic or straight forward?
I'm sarcastic, but not in a jerky kinda way. I can be straight forward depending on my mood and the subject. I really loathe when I ask someone a question and they beat around the bush. In that situation, yes I'm straightforward. And I frequently sprinkle my writing with sarcasm.
3. Has either you sarcasm or bluntness ever gotten you in trouble?
In person, it has been known to piss off my husband, but that's mostly when he doesn't get it, which unfortunately happened when we first met. Now, I know better. I try to get to know the person before unleashing my sarcasm.  I'm wondering what you read on my site that makes you ask me this…LOL.
4. Shoes tied or untied when you take them off?
OMG, I used to be so concerned about this! But I don't have time, so I kick 'em off without even thinking…Come to think of, where are my shoes…
5. How many keychains do you have?
I have a few that I collected from traveling,  but I don't really use them. I had a friend in high school whose keychain was so ridiculous and loud and that changed my entire outlook on keychains haha…
6. On a hot day do you still drink hot (coffee or tea) or only cold (shakes water iced tea/coffee)?
Well, I will but if you've experienced any form of Texas heat (which can strike at a moment's notice, even if it snowed yesterday), you will run for the first cold beverage. So typically I gulp down anything that's cold and stay away from stuff that makes me sweat even more than the sweltering heat and humidity.
7. Do you prefer poolside or sitting in the sand?
Without a doubt, the SAND!!! I was just on the beach in the Dominican Republic a few weeks ago. Ahhh, how I miss the sound of the ocean waves…I'm convinced that in a former life,  I was a beach bum. I'm trying to get back there, but the whole bum thing isn't working out that well for me…I got bills, ya know.
8. What did you eat so far today?
Uhhh, *hides face* See, what had happened was…Let's just say it wasn't healthy lol.
9.  What's is the last song you heard?
I'm not ashamed (well, just a little bit) to say it was New Edition's "If It Isn't Love." I had a lot of writing to do today, and for some reason old R & B sparks my creativity.
10.  I am in love with your story of finding your 'niche'. What advice would you give to someone else searching for their place?
Whew, I feel like a hypocrite answering this because I still don't feel like I know my place. I'm still trying to find my way. So far, that's involved trusting my gut, which is a bit of a struggle for me. But yeah, that's my answer and I'm sticking to it. Do what feels right for you. Do what you would do if no one else was watching.